Improve client relationships & increase retainer revenue
A framework that will deliver strategic marketing services for your clients.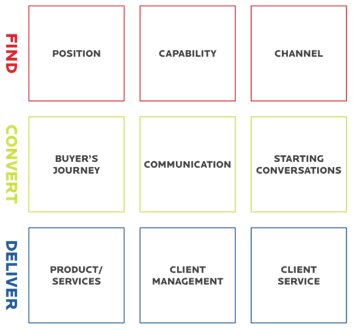 9Boxes is a data driven framework with concepts, tools and techniques that gives a structured delivery process for strategic marketing services.
If you are an agency that wants to:
Extend the average lifetime of a client beyond the current average of eight – nine months.

Make marketing a business conversation, not just a tactical marketing conversation.

Anchor the tactical deliverables to a solid strategy that delivers measurable business results.

See double digit profits for their business from a new revenue stream.
Run a value-add retainer pricing strategy that is a win/win for all.
Be seen as a measurable investment rather than a cost.
You are in the right place!
9Boxes framework helps marketers to plan, execute and measure their activities in order to achieve the desired business outcomes. It also provides guidance on how to create an effective strategy based on the available resources. You can get closer to your clients' businesses by using the 9Boxes to build strategy and deliver measurable tactics.
If you are looking for a framework that can help you deliver strategic marketing services then we have just what your company needs.
We offer a repeatable scalable strategy tool and we show you how to commercialise it along the way. Within 3 months your agency can have a new revenue stream that is coming from strategic services.
GET YOUR OWN SCORE – click here https://9boxes.threeby3.com/ Take 10 minutes, answer 45 questions and get your own score or drop us a line - clodagh@growitgroup.com or text 9boxes to +353 83 153 1973
What is the 9Boxes?
9Boxes is a marketing framework that helps agencies and their clients have a different marketing conversations.
The traditional marketing function is failing businesses. Yet marketing is one of the few true revenue growth opportunities available to SMBs.
Our structured methodology helps businesses to avoid knee-jerk tactics, instead directly connecting their marketing strategy to business goals to drive growth.
Growit's partner – Threeby3
Threeby3 believes that for too long, SMBs have been let down by a tactical approach to marketing. Most SMBs operate without a market strategy, and are continually wasting money on stand-alone tactics.
Their vision is to become the global language of marketing, using a data-driven tool that drives performance, creating transparency and accountability to make marketing investment work harder.
What they do
Threeby3 has developed unique IP built around the 9Boxes methodology, a platform backed by data, designed for developing robust marketing strategy for a business of any size, operating in any industry and in any region.
They choose to focus on the SMB market, where business owners don't have access to a marketing strategist in-house, and piecemeal strategy.
What the client sees
'Smash and grab' – agencies that claim to deliver everything and nothing is anchor to strategy
Agencies that rush to tactics rather than doing the thinking [with 9Boxes you get paid for the thinking]
Agencies sell what they have rather than what the client needs
Primary driver of agencies is to sell products and services rather than help their clients grow their business
Agencies that have little business acumen and more 'creative' marketing skills
They focus too much on digital delivery rather than strategy and business growth
It starts with a score
What is the Strategic Marketing Assessment Scorecard?
A unique tool used by over 4,500 business leaders worldwide. It enables you to make an objective appraisal of your business' marketing performance and its ability to compete successfully. By using the benchmark you'll highlight any gaps and discover how to establish a strategic marketing plan that delivers long-term revenue.
By scoring your business on each of the 9 Boxes your business will understand how to:
FIND - Understand how your business sources its clients
CONVERT - Understand how your customers buy from you
DELIVER - Understand how your business services its clients
Get your score, discover your gaps – and GROW!
Get started with your own marketing benchmark today go to https://9boxes.threeby3.com/